Posts Tagged 'cfrc'
May 16th, 2012
Comments off
January 21st, 2009
Comments off
I just recieved an email from Matt Tarleton @ Central Florida Road Course
In appreciation for Titan Motorsport's interest in the track, we would like to extend to your customers and friends a special Titan discounted rate for the Jan. 31st racing school of $150. They need to sign-up quickly so we can get their spots reserved.
This is a great opportunity to gain experience on Orlandos only road course, and become eligible for future track days as well.   This is a great price for an instructed road course session, and will offer plenty of track time.   You'll also be eligible to drive during our BBQ's open sessions allowing even more free track time.
For More Information or to Pre-Register visit  http://cfroadcourse.com/schools.aspx   Be sure to Mark Titan Motorsports friends and family with your event registration.
January 21st, 2009
Comments off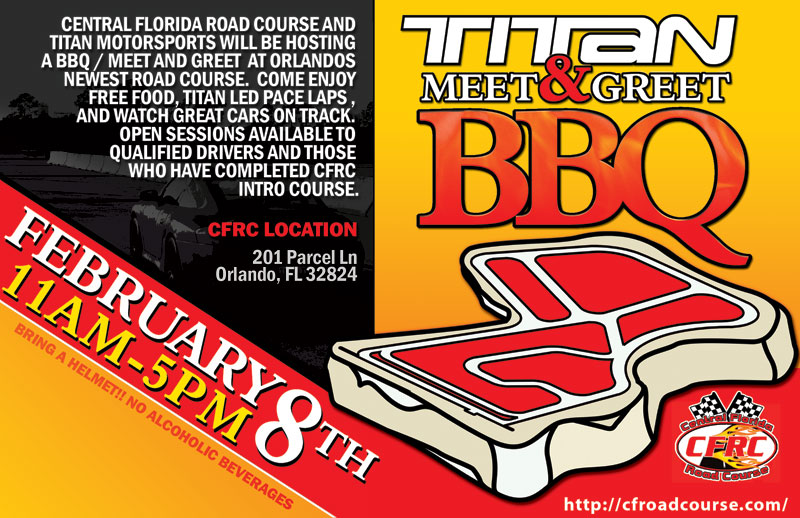 On February 8th we will be hosting a BBQ Meet and Greet at Orlando's newest race track, the Central Florida Road Course. The event will be hosted from 11-5 at the road course which is located. Food and beverage will be provided. No alcoholic beverages are allowed on site.
– Parade Laps paced by a Titan car
– Open Session for qualified drivers and those who have completed driver training.
(The next training/evaluation course is January 31st, take the course and gain access to the track at our event)
For More Information on the Course / Training Courses and for additional directions and photos visit http://cfroadcourse.com
If you plan on attending or have any questions about the Titan BBQ event please email wes@titanmotorsports.com
Don't forget to Bring a Helmet!!!